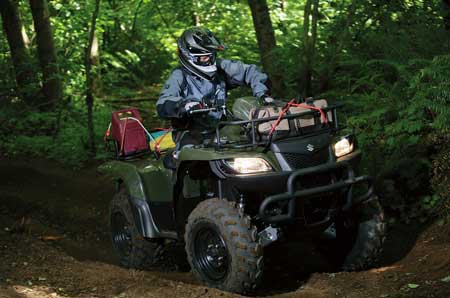 By Robert Dengel, Mountaineers member

The Washington State legislature is considering an Off-Road Vehicle (ORV) bill that has support from members of both the environmental and ORV communities, SSSB 5366. In short, the bill allows ORV riders increased access to roads, but prohibiting their use in undesignated areas. This is a bill that Conservation Northwest has put a lot of effort into improving.

The bill would allow ORVs (specifically quads) on roads which have a posted speed limit of 35 mph or less in areas with smaller populations. There are a host of safety measures called out in the bill that an ORV rider must meet to use the roadway, including: a) a driver's license, b) large license plates, c) retrofitted lights (turn and stop signals), d) helmets and e) insurance. This is a similar set of safety measures already in place for dual sport motorcycles, which can currently be used on and off-road. One concern is that this bill would allow ORVs access onto non-ORV areas more easily, even though access to those areas would still be unlawful. However, the large license plate will make it much easier to hold accountable those ORV riders who choose ride irresponsibly in areas where ORVs are not allowed.

The second piece of the bill is that trails would be closed unless posted open for ORVs. Currently Washington State is unique in that state land trails are open unless posted closed, see WAC 332-52. This creates the situation where an unlawfully-built ORV trail can be ridden on, unless the state takes action to post it closed. Needless to say, this promotes illegal trail building and useage, which can cause significant environmental impacts. This bill changes ORV management for the protection of the environment. Enforcement staff will be able to easily identify (via the larger license plates) and take action against those riding on illegally built trails without having to take the prior action of posting the area closed. In addition, responsible ORV riders will be able to ride on the road after following multiple safety measures. This bill is a win-win.

Learn more about the bill and track its progress. You may also wish to take action, check out Conservation Northwest's alert.